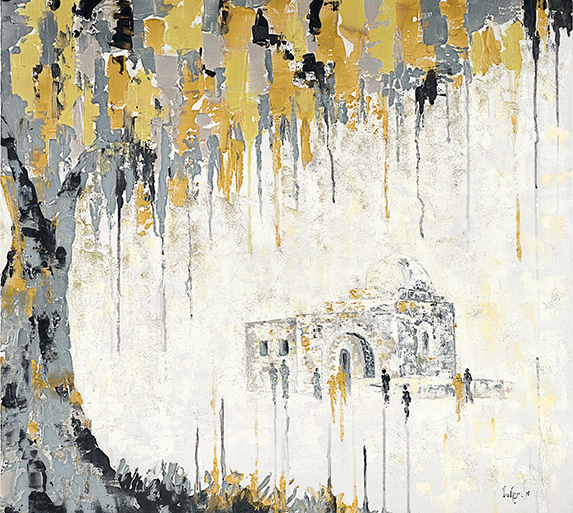 'JUST LIKE DEWFALL THAT REJUVENATES, PAINTING IS A GIFT FROM HEAVEN THAT REVIVES MY BODY, SPIRIT AND SOUL'
Since childhood I have been creating and drawing.
The subject matter of my pictures are formulated and derived from the most significant values of my life. I have functioned as an artist while raising a large family, and always continued to observe and experience the Jewish scene.
There is a delicate, yet significant interplay between these factors that enrich each other
As I function both as a mother and a creative artist, I feel empowered and fulfilled and my family and the Jewish scene surrounding me contribute beauty, charm and significance to my art.
I myself grew up in Jerusalem, and my family has dwelt in Jerusalem for many generations. Through my drawings you can accompany me as I walk the streets of Jerusalem with love and longing, observing and sensing its aspects of amazing glory and beauty or saddening destruction and desolation. 
I invite you to overlook the Kotel, enter the Old City and the Meah Shearim neighborhood ….. and stroll through ancient alleyways saturated with history and color.
I can offer you to glimpse at a wide range of nostalgic characters as well as rich scenes portraying everyday Jewish life.   
My paintings can be defined as a visual expression of scenes and pictures that I absorbed and experienced over the years. The drawings depict multi-colored, splendid, uplifting scenes of Jewish life but also convey a fervent longing for the rebuilding of Jerusalem and the future Geulah.
An abundant range of colors and textures are employed to infuse these pictures with a lifelike vibrancy.
Oil and water paintings, drawn with a wide range of techniques, structured three-dimensional works, works of Judaica – meticulously scripted or etched on parchment and Jerusalem stone, and contemporary and up-to-date paintings – all these are only a sample of the diversified mediums that typify my artwork.
I will share with you a technique that I often use. I prepare a stock of pre-painted backgrounds, interesting backgrounds painted with different shades and blends of color. Then, if I am suddenly inspired with an idea for a drawing on a particular background, I pull out one of these "prepared backgrounds" and paint the newly created picture upon it, integrating the picture with the background.
"JERUSALEM OF GOLD"- the highlight of my contemporary-style paintings is an oil painting created with a mixed technique, displaying a clean, elegant line, and incorporating golden leaves.
This and a variety of additional pictures rendered in a novel style, introduce a fresh, new way of portraying hallowed and traditional customs and values. It's a style that embodies a dimension of surprise and mystery that captivates the viewer, invoking feelings of identification, inspiration and emotion. 
This is why so many buyers prefer to purchase my art-work for elegant, upscale homes with a modern décor.
I've presented my artwork as sole artist at eight various exhibits, and participated in scores of joint exhibits at prestigious museums and galleries in Israel and abroad. I've also served as curator for several exhibits. My artwork has been purchased by art collectors, interior designers, business people and gallery owners.   
I presented eight sole artist exhibits, and participated in scores of group exhibits at prominent galleries and museums in Israel and throughout the world.
I have served as curator of various exhibits and many collectors, designers and business people have purchased my artwork.

I thank the Ribono shel Olam for gifting me with the ability to create this art. With Hashem's help and blessings, I hope to continue painting and creating.

To schedule a free consultation,
for the perfect choice for you